Ben,
This is Anne Valliere, we met at the Parachute jump at the Washington reunion - thank you so much for all your work. I just wanted to tell you that my Uncle Carroll Eckert passed away on Sunday, August 12th at 11:20PM in York, Pennsylvania and will be buried tomorrow, August 20th with graveside rites performed by the York County Veterans Honor Guard at 11AM at the Mount Rose Cemetery, 1502 Mt. Rose Avenue, York, Pennsylvania. Etzweiler Funeral Home, 1111 East Market Street, York is in charge of the arrangements. www.etzweiler.com
I can't tell you enough what the Reunion meant to him. I believe, and his son, Scott believes that he stayed alive long enough to go to the Reunion. You could see the happiness in his eyes when he attended the Reunion, even though he had been in the hospital many times over the last few months. He got to talk to the other veterans and reminisce the war stories with them.
He was so excited that I found that he was mentioned in the book "Paratroopers' Odyssey" on the top of page 80, not by name, but by actions, like so, "One man who had been given up for dead crawled back after dark". Uncle Carroll crawled back after making out he was dead, so the Germans wouldn't finish him off. He crawled back after dark like they said - about 3 miles with wounds to his leg and shoulder. I believe he told me that he was given 8 pints of blood.
He also told me that he was shot and as he was falling to the ground, behind him he saw Lieutenant Ridler get shot in the head. Uncle Carroll said that he should have been gone then, so he was lucky to be alive today. He told me that he never saw so much fire power.
I just want to thank you personally and everyone that he talked to on that day at the Reunion - you all made him feel so good and he was so happy that everyone remembered what the guys had done in World War II.
Thanks again,
His niece,
Anne Eckert Valliere
Barre, Vermont
---
Jean Loup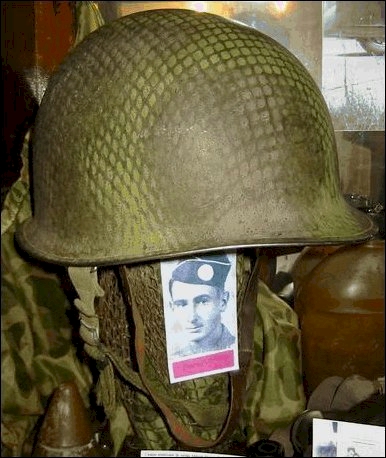 Camo painted helmet of the 517th Para Regimental Combat Team. It belonged to Marvin Moles who jumped into Southern France on August 15, 1944. Camo paint has been painted over the net
Of special interest is the fact that this is a regular M-1 helmet with a rigger modified chinstrap (two buckles and a chinbrace). Most helmets worn by the paratroopers of the 517th in Southern France were altered like this due to a lack of M1C jump helmets.
Submitted by Jean Loup
---
Steve Markle
Mickey Moses sent over these great pictures that I thought I would share.
In addition, I have posted these to my photo gallery with other 517/ 596 reunion photos for further sharing. They can all be found here;
In addition, I have found pictures of the ship Cristobal that I read that the 596 (and the 460) were transported to Europe in*. They are here;
and here;
Enjoy.
-Steve-
---
Don Gentry
Hello Ben, some of us have been saluting without authority but now it is legal.
WASHINGTON, D.C. - U.S. Senator Jim Inhofe (R-Okla..) today praised the
passage by unanimous consent of his bill (S.1877) clarifying U.S. law to
allow veterans and servicemen not in uniform to salute the flag. Current law
(US Code Title 4, Chapter 1) states that veterans and servicemen not in
uniform should place their hand over their heart without clarifying whether
they can or should salute the flag.

"The salute is a form of honor and respect, representing pride in one's
military service," Senator Inhofe said. "Veterans and service members
continue representing the military services even when not in uniform.
"Unfortunately, current U.S. law leaves confusion as to whether veterans and
service members out of uniform can or should salute the flag. My legislation
will clarify this regulation, allowing veterans and servicemen alike to
salute the flag, whether they are in uniform or not.

"I look forward to seeing those who have served saluting proudly at baseball
games, parades, and formal events. I believe this is an appropriate way to
honor and recognize the 25 million veterans in the United States who have
served in the military and remain as role models to others citizens. Those
who are currently serving or have served in the military have earned this
right, and their recognition will be an inspiration to others."

This Bill was passed July 25, 2007. Let your veteran friends know about the
Passage of this Bill.

"On May 17th the troopers climbed the gangplanks for their great adventure. The 517th boarded the former Grace liner Santa Rosa, while the 460th and 596th loaded onto the Panama Canal ship Cristobal. "
And
From the map in the "Chronicle of the 517" (Page 6) "Arrive 31 May, Bay of Naples , SS Cristobal, 460/596"
---