I was wondering if you are aware of this site (SSFOA)? I was sent a certificate and banner in the memory of my Father for wounds received in action. I'm sure there are a lot of the 517th men that qualify for this award. www.silverstarfamilies.org Click on the link then go to the right side of page and click on request banner.
Lori

---
Gilles Guignard--Our friend from Switzerland

Dear Ben and Bob,

Please don't include this email in the Mail Call, I
don't want to bore everyone with my ww2 researches...

I hope you are both fine. I visit your website every
day and I must say I discover something new every day
on it!
Its my favourite website!

For the 517th cap: Thanks for including my 517th CAP
request on the mail call.. Unfortunately no one
replied… do you know where I could find a cap like the
one Russ Brambi is wearing on the 2003 Toccoa picture?
Here is the link for your info
http://www.517prct.org/photos/curtis_toccoa.htm

Im also looking for Claire Giblin's current email
address (I met allan Johnson his dad in Southern
France last year).
The address is have is clairejgib@aol.com but I don't
think it's the correct one since my emails don't go
thru…

THE SIGNED PICTURES: Regarding the signed pictures I
wanted to obtain, I have sent an email to Mr Alicki
following his reply on the mail call. Im waiting for
his reply, as soon as I get his address I'll send him
the picture (I also printed an extra copy for him).
I also have a picture of Dick Seitz which I would like
to have signed by him. Would it be possible to get
address of his daughter's email address?
I don't want to annoy Mr Seitz but maybe his daughter
would agree to let me send them the picture for
signature. what do you think?

Thanks in advance for your help, I would really
appreciate if you could "coach" me on the above
requests since im a bit shy on certain points and
would hate to hassle people.
I have just added new pictures on my
www.dogface45.skyblog.com have a look! (at the end
pages).

With best regards from switzerland,
Your friend in the 517th , Gilles

I have sent mail to Gilles answering his questions. Dick Seitz has assured me that his daughter would be glad to accommodate Gilles even if she is very busy as a judge in Florida while he is retired. -Ben
---
Michael Wells
Ben:
While I'm working on submitting Chester A. Wells' information to the "Meet the Troopers" section of the web site, I'm going to send on a few pictures at a time. I'll put notations on them, with information that I've gleaned from notes my Dad made on the pictures or from information provided by Dad to other members of the family. I should say that some of his notes are not "complimentary," but I've written the notes exactly as he did; for historical purposes. Looking forward to hearing the results of the 517th's reunion in D.C. Sounds like a lot of folks will be attending!
If any of your readers have more information about these photographs, such as names of the other's in the photo's or where the photo was taken, I'd certainly like to hear from them.
Anyway, here's a few pictures, I've put them in two formats in case one doesn't come through. Don't know how many I should send at any one time, so I'll just do 4 at a time. On the picture that names "Sgt. Dotey," I've seen the name of Cecil Dotey on the web site. Wondering if it is the same person.
As for the pictures, I don't know the proper "etiquette" for posting them. If anyone wants to use them, for personal use or other publications, I would prefer that I be contacted. As for the 517th website, you are welcome to use them:
Thanks
Michael S. J. Wells
Sgt. Dotey, Wells and a unknown Trooper. Possibly taken in the Piera Cava area.
Writing says: "D+2 Aug 17-44. 2nd Pl H. Co. 517"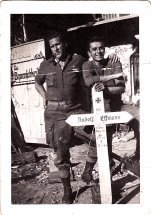 Notes indicate this may have been taken in area of Sospel. Wells is on the left.
This picture was labeled as "7 Switchbacks."